Deroulpack,

ergonomic and economical solution
The operation of filming a palett can't be systematically automated. Physically tiring for the workers and source of medical leave and physical injuries at work, it is indeed still done by hand without proper tools in 50% of the cases. Deroulpack was made to provide the best ergonomic and economical solution to this situation.
DEROULPACK® is the only manual filming tool recommended by the French professional "health at work" organisation (INRS and ANACT).
The results of tests conducted by the MUSKA software of the ANACT, guarantee the reduction of drudgery at work, the reduction of physical injuries and prevention of occupational stress.
The patented system for maintaining the tension of the film in an ergonomic manner allows :
• Using all kind of manual films such as standard stretch, pre-stretched, with or without core (more details further)
• Maximum quality of filming : sufficient tension of the film, and good coverage of the bottom of the pallet with same productivity
• To guarantee improved work conditions, by reducing the drudgery at work (by 5 to 0.5 points) proved by official tests of INRS/ANACT
• Ready to use anytime.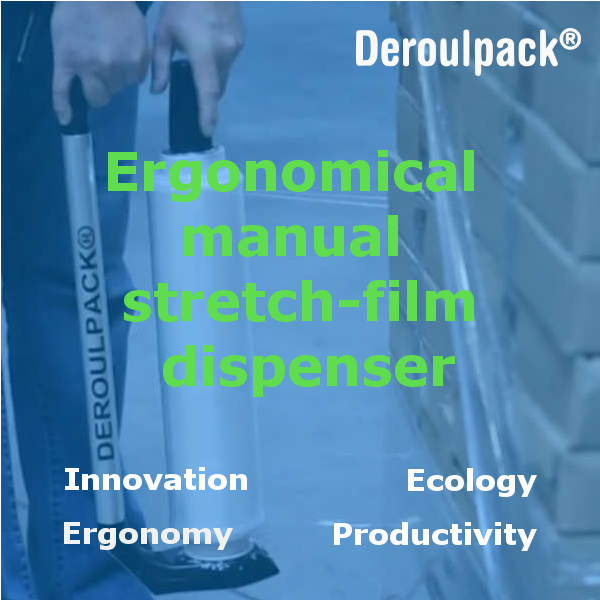 By using DEROULPACK® :
•    You reduce the drudgery by stopping the traction effort in the arms, and the bent position when covering the bottom of the pallet (Back & shoulder pain)
•    You highly reduce the danger because the filming is made moving forward (not compulsory)
•    You can save up to 40% on the film cost, using 7 micron pre-stretched film (not compulsory)
•    You reduce the waste of film (7% of film remains on the core at the end of a roll) and save gloves that you don't  need anymore
•    If you are already using the automatic stretch-film machine, you have an alternative option with DEROULPACK® in case of failure of the machine
With DEROULPACK® :
It is the combined movement of going forward together with the adjustable brake, that sets the tension of the film
•    Stopping a non-regular traction on the film improves the result of the filming, and allows usage of thinner film
•    Not bending with a lowered head to film the bottom of the pallet prevents hypotension (spinning)
•    Tests handled by us proved a reduction of the average heart rate of the worker by 15 to 25%
•    (Protocol : 3 palettes 1.70m high, 10 rounds by a 55 year-old man- total time 5 minutes)
French touch
Used by a big number of clients all over Europe, in supply chain, logistics, industry and agriculture (>45.000 DEROULPACK® systems)
Fast & Easy to use, prize winner in Packaging at -Oscar Emballage 2009 Paris-, conceived, patented and made in France.
It is usable in all environments such as food business, fresh products, positive and negative cold ; it was conceived for such conditions.
The axel rod and the brake rod are made of stainless steel, as well as the bottom protection and bolts. The holder tube, base and holding part are made of aluminium. The bearing is waterproof, without maintenance and avoids the accumulation of grease.
The frequently used parts (brake circle and guide) are made of Teflon (PTFE and Ertalon)
Dimensions of DEROULPACK® : height : 58cm, width : 9cm , Length : 20cm  Weight 1.375Kg (+/- 5%)